The Board of Directors are selected based on their commitment to providing services to our Elders and Youth. They are either American Indians/Alaskan Natives or have the best interest of Natives in mind!
The Board of Directors of BRIDGE
Joe, David, Maggie, Bob, Billie and Darcie
Darcie Pacholl, an Aleut, has served as the Founder and President of the BRIDGE organization since its formation in January 2009. As president, Darcie is responsible for program development for the Elders and Youth which includes workshops, intergenerational exchanges, language development, work experience programs among others. She works to promote the vision and programs of BRIDGE to all its constituencies, advocates for Elders and Youth opportunity for Pierce county Native Americans, and cultivates collaborative relationships with community partners. Prior to founding BRIDGE, Darcie has worked in Education as an elementary teacher and an administrative assistant to an educational measurement company. She has volunteered in local and national non-profit organizations including Girl Scouts and Angel Guild. Darcie holds her degree and certifications from California State University in Sacramento. Her professional affiliations include Puget Sound Grant Writers Association.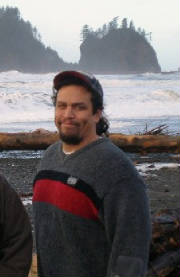 Joseph William Casto was raised in the Puget Sound area of Washington where he gained great knowledge of his own Quileute culture and the great Olympic Peninsula as well as insight into other local native customs. He was voted in as Vice-President for the BRIDGE organization in May 2009 where he brings his dedication to improving the quality of the Native way of life to the organization. In addition, Joe has immeasurable experience in working with local community members of tribes and private companies. Joe is interested in pursuing his education in grant writing thus allowing him to better serve the mission of BRIDGE.
Maggie Fennell is the secretary of the BRIDGE organization. Maggie's key interests are to serve the Native community especially elders and youth by offering her Aleut culture as well as her keen organizational skills to the advancement of the Native community. Being a full-blood Aleut Elder, Maggie has a rich history of her own culture. She is an excellent storyteller, basket weaver, carver and all-around craftsman. Her volunteer experience serving as an alternate delegate to the Alaska Federation of Natives convention as well as her participation in Cultural Heritage Days sponsored by the Chugach Heritage Foundation has afforded Maggie great knowledge of native issues. She brings her experience from Nuciiq Spirit Camp to offer program development to local native youth.Maggie's excellent organizational, communication skills, knowledge of her culture and her volunteer experience with other non-profit organizations bring fresh insight and wisdom to the board of directors.
Bob Fennell began selling Kirby Vacuum cleaners in the summer of 1969 while attending Barber College to support his young family. In the 1970's, he began his sales career in the recreational vehicle industry where he has received more than fifty Salesman of the Year awards. In the early 1990's, he relocated to the Washington area as the General Sales Manager for a local RV company where he is responsible for overseeing regional efforts in recruiting, productivity, sales promotion, and market and rep development. He currently resides in Gig Harbor, Washington along with his wife Maggie and their grandchildren. With over 35 years of upper level sales management experience, efficiency in book keeping, motivational strategies, and oratory skills, Bob is dedicated to add his skills to B.R.I.D.G.E. for the enrichment of the Native community.
Billie Jean Wilcox serves as a director of the BRIDGE organization. Billie Jean's key interests are to serve the Native community especially elders and youth by offering her Quileute culture as well as her organizational skills to the advancement of the Native community. Being a full-blood Quileute Elder, she has a rich history of her own culture. Known for her truthfulness and thoughtful ways, Billie Jean is an invaluable asset to BRIDGE. She has assisted elders by providing in home care-giving services. Besides being knowledgeable of the culture, customs and traditions of her tribe, Billie Jean also provides traditional, family-based support and guidance.Her experience in management is an added benefit to the BRIDGE organization while providing fresh insight and wisdom to the board of directors.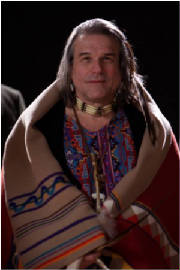 David Grizzle is part Cherokee and Sioux. His Indian name is "Wakiyan Kodai Api" which means "Friend of the Thunder Beings". David is known for his special ability to offer healing to people. This special calling came to him as the result an auto accident. Since then, he has been sharing words of wisdom, prayer, comfort, and loving/healing energy to support others, especially Native American Elders and Youth. David has studied, traveled, and learned from many different types of healers, channels, psychics, and spiritual leaders. As a director, David brings his great wisdom and knowledge to promote and support the vision, values, and mission of BRIDGE.